Alan 'Doc' Savage
(drums, percussion, sound effects)

Performing in public from the age of ten in a career spanning the world of jazz, pop, theatre, radio, TV, film and hotel bars, from backing 'Wonder Woman' to 'Jungle' winners, Alan has driven the best (and the worst) of them, one hand never forgetting what the other's doing.
Below: Alan aged five on his dad's drum kit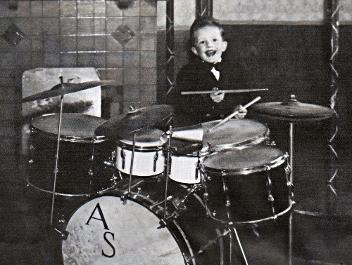 Russell 'Hustle' Swift (bass guitar) (with Alan Savage in the foreground)
Russell is a versatile, much-in-demand musician who, apart from his session work and touring in possibly every musical ever written, has lugged his bass all over the planet from the Sydney Opera House to the Hollywood Bowl - and for never less than the minimum.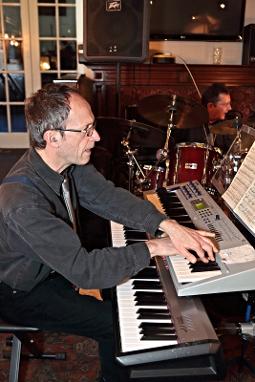 Classically (as well as house) trained, Jules has enjoyed working in different genres from studio and theatre work to jazz, R&B, Big Bands, and his own Salsa band. He enjoys the versatility of the digital keyboard and has a particular attachment to the organ.
Jules 'Earl' Hunt (keyboards)
'
'Saxy' Katie Samways (baritone saxophone)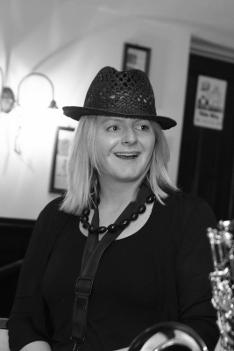 'Big' Ben Drouet (baritone saxophone)
Will 'The Wiz' Osborn (tenor saxophone) .... and Alan 'The Horizontal Man' Wakeman (tenor/soprano sax, vocals, arrangements) :
After leaving school, Alan has spent much of his working life horizontal. From being carried back to the hotel from a bar in Düsseldorf (Paul and Barry Ryan tour, 1969), being woken from a drunken stupor (by Don Weller!) to play the last number in a club in Bremen (Harry Beckett tour, 1972) to being taken out of the PA and removed from the stage in Aberdeen (David Essex tour, 1977), Alan spent most of his career on his back. He cites his cousin, Rick, as an early influence.
See the Picture Gallery for more photos...